Behringer TD-3-BK
This product is in stock and can be shipped immediately.

Item number: 483759
sales unit: 1 piece
available since: 2020/03/03
Design: Desktop
Polyphony: 1
Sound Generation: Analogue
MIDI interface: 1x In, 1x Out/Thru
Storage Medium: Internal
USB-port: Yes
Effects: Yes
Arpeggiator: Yes
Number of Analog Outputs: 1
Digital Output: No
Display: No
The prices in € are a guideline only.
Product Details
Analogue Bass Line Synthesiser
Fully analogue signal path from VCO, VCF and VCA
VCO switchable between sawtooth and rectangular waveform
4 Pole low pass filter with resonance
Adjustable VCF envelope intensity and envelope decay
Adjustable accent
Integrated distortion with tone control
16-Step sequencer with 250 pattern memories
Poly-chain up to 16 devices
Audio input for sound processing external sources: 3.5 mm jack
Sync In & CV/Gate Outputs: 3.5 mm jack
Stereo headphone output: 3.5 mm jack
Line output: 6.3 mm jack
USB-MIDI and MIDI In/Out
Dimensions (H x W x D): 56 x 305 x 165 mm
Weight: 0.8 kg
Colour: Black
Power adapter included (9 V DC)
Suitable cover: Art.#490239# (not included)
Suitable bag: Art.#493544# (not included)
Suitable case: Art.#492958# (not included)
Back to the 80s!
The Behringer TD-3-BK is the black version of this much-loved bass line synthesiser, a classic reference for any synth connoisseur. Whether in prog rock, new wave, EDM or synth pop, a host of legendary acid sounds that will stand the test of time, have, and still are, being created on the TD-3-series – and its pure analog signal path! The sawtooth and square waveform oscillators form the basis of powerful and super-fat bass lines, as well as gritty leads. Added distortion, one among many effects included in the TD-3-BK, will dirty that sound even further. The TD-3-BK includes both MIDI and USB ports. Should you prefer a software rather than a hardware interface, the Synth Tool application provided is intuitive and practical – while, of course, machine-programming remains fully operable. The TD-3 series is available in an array of different colours.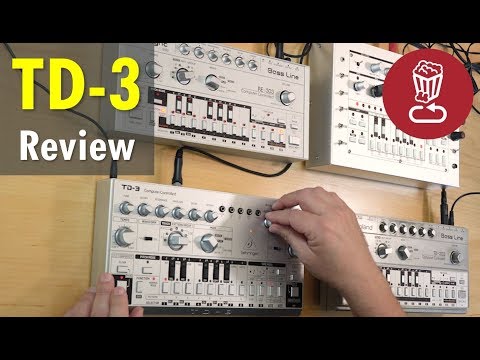 Totally flexible programming, plus extras!
The TD-3 series patterns are organised into four groups, each of them divided in 2 sections, A and B. The keyboard acts as a shortcut to all the different patterns, each can then be individually selected and edited. In order to program each section, 'write mode' must be selected in the central control area, and then the pitch and time value of each key assigned. The 'step' button defines the number of steps in each pattern, which can go up to 16. Longer sequences can be created by playing patterns sequentially or chaining them in track mode which allows patterns to be played in any order. A total of 64 patterns can be stored in the TD-3-BK. A random pattern generator is also included, which can be a great help in simplifying and helping with the design of new patterns. To enable random generation the 'Start', 'Stop' and 'Clear' keys must all be pressed simultaneously.
A portable "back to the future"
At 663 g, the Behringer TD-3-BK is easy to handle and of course fits more or less anywhere. Behringer's recreation of the original user interface allows the exact same workflow that spawned so many great bass lines and leads during the 80s. The distortion section can be added at will, in easily controlled increments. The ' Tone Control' function, which remains neutral in middle position, is useful for either 'muffling' or making bass lines more aggressive. The TD-3-BK can be clocked to any other synthesizer via the sync-in input. In addition, the CV-out (controlled voltage gate out) can be used to trigger external synthesizers.
About Behringer
The company, which was founded in Germany by Uli Behringer and which now produces their items in China, has been known for affordable and great value equipment since their very first product, the Studio Exciter F. An array of mixing consoles (such as the Eurodesk MX8000), signal processors - and later sound amplification and monitoring equipment – has made it possible for countless musicians to fit out their home studios, practice rooms or mobile PAs, within a budget limit that was previously unthinkable. The acquisition of other companies, among others Midas, Klark Teknik and TC Electronic, meant that new product groups were added - and also resulted in the technical know-how of these companies being incorporated into product development. The still young synthesizer division of Behringer continues the philosophy of the firm, which is to offer truly affordable classics with outstanding features.
Simple software programming
The provided Synth Tool allows the user to immediately access any preconfigured TD-3-BK pattern via USB. From there, patterns can easily be imported from the machine into the computer, modified at will, and then sent back to the TD-3-BK. This is done via the 'Recall' function. Inside the editor, note values can be changed via drag-and-drop operations, as can be the total length of the pattern. The 'Store' function in the Synth Tool allows patterns to be easily stored back into the TD-3-BK. Accents can also be programmed, by right-clicking on the desired notes. The value of each accent can be adjusted via the corresponding slider on the TD-3-BK. The Synth Tool software includes further control options, such as MIDI routing, PolyChaining and calibration of the TD-3 BU.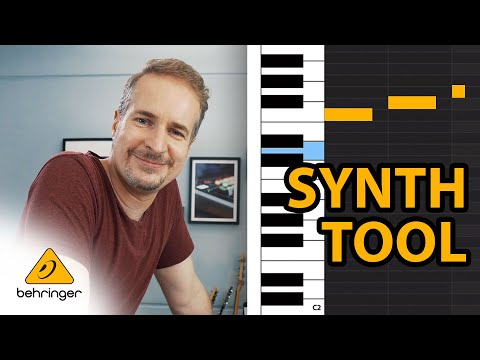 Customers Interested in This Product Also Bought
37% bought this product
Behringer TD-3-BK
Related Products